Home /
Branded Environments
Branded Environments
Events
Event environments represent a dimension of branding that is more personal and immediate than many might assume. The physical structure and organization of a space has an immediate effect on people. It is very much a stage for our identity attributes, personality and key messages. Events give us the opportunity to raise our identity to a level of drama and celebration – bringing the Texas Tech University System brand to life. We also can support these targeted communication initiatives through the development of event themes, utilizing presentations, demonstrations, banners and personal interaction to reinforce our key messages. When all of these elements work in concert to engage and inform in a friendly, helpful way, targeted messaging is more likely to reach its mark. A powerful brand experience is created that resonates with audiences long after the event has ended.
The experiential nature of events demands that close attention be given to the behavioral aspects of the TTU System identity. In these immersive environments, it is critical that our personality attributes are demonstrated consistently through every point of contact so that there are no oversights or missteps (even seemingly insignificant ones) that undermine the overall experience.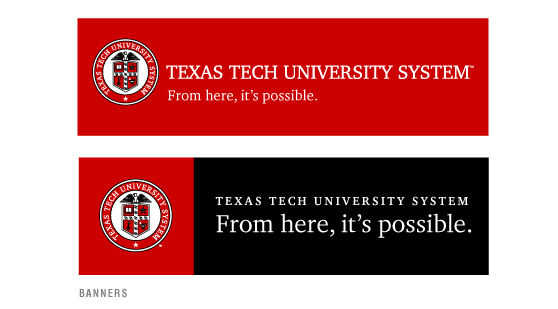 Signage
Signage on and around campus and facilities provides highly visible evidence of our commitment to a unified identity and logical systems of identification and way-finding. Whether you are producing construction, vehicle, building or directional signs, be sure to follow prescribed graphic standards for the Texas Tech University System, using official identities, including proper use of color and typography.