Home /
TTU System Seal and Signature
TTU System Seal and Signature
We've developed a unified identity for use by Texas Tech University System departments, programs, centers, institutes, divisions and offices. This identity is derived from our Official Seal. When used in conjunction with the office or department names, it forms the basis of a unified system of "Signatures" representing the TTU System and all its administrative and operational units.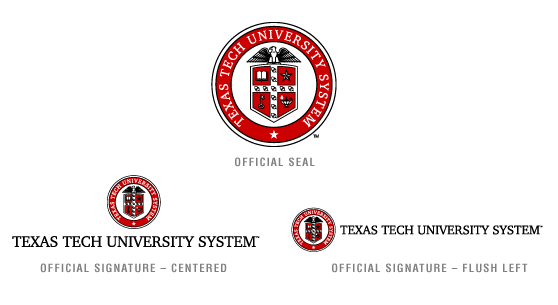 Correct Use
Always use the Office Versions
It is important that the Texas Tech University System Official Seal and Signature are always used in their correct trademarked forms. The Official Seal and the Signature should never be altered in shape or proportion or set in a different typeface, nor should they appear in any other than the approved colors shown within these guidelines. Do not place the Official Signature or Seal at a slant or align the Official Signature vertically. They should appear prominently and be used in their entirety when serving as the primary identifier for the institution. The Official Seal may be used as an illustrative graphic in a tone-on-tone presentation within design solutions providing that the Official Signature is present as the primary identifier.
The Official Seals of the TTU System, Texas Tech University, Texas Tech University Health Sciences Center and Texas Tech University Health Sciences Center at El Paso look identical except for the identifying text that surrounds the Coat of Arms. Careful examination should always be practiced when utilizing these seals to make certain you have the correct one. Using the wrong seal is an easy mistake to make in the flurry of day-to-day business.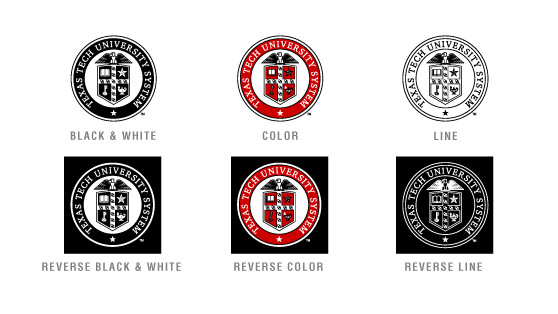 Color, B&W, or Line Versions?
Our official colors are vital components of the Texas Tech identity and should be the first choice when representing the institution. A black-and-white version has been created for those situations when reproduction integrity or financial constraints limit your options. We've also provided a line version for some reverse presentations and for unique production requirements such as the development of embossing or watermark dies. The line version is also a good alternative when you are considering a quieter or more reserved impression, such as on an invitation or more formal documents.
Flush Left or Centered
In addition to the various versions of the Official Seals, you'll find two different configurations of the Official Signature – one in a flush-left arrangement and one that is centered – to accommodate the range of applications required within the system. The master files are designed primarily for print and online applications and the symbols are sized to be reproducible at this minimum size.

Incorrect Use
Consistent graphic presentation of the Official Seal and Signature protects their integrity and contributes to uniform recognition. These official identities may never be altered in shape, proportion, typography or color, or combined with any other university identities.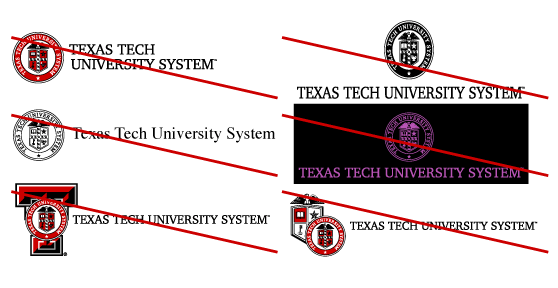 Color Applications
Two-Color and Single-Color Use
When using the Official Seal or Official Signature, the two-color (red and black) version is preferred. However, when situations dictate, the Official Seal and Official Signature also may be printed as a single color – solid black. You'll find links here for single-color (black only), spot-color (Texas Tech Red and black) and four-color (CMYK) applications. Use RGB file formats for Web pages, broadcast and computer-based presentations.

Using the Official Seal or Signature on a Colored Background
When producing marketing and communication materials with dark-colored backgrounds, always choose the white "reversed" or two-color reverse artwork. In order to diminish color conflicts with our Texas Tech Red, we generally avoid use of the two-color version on colored backgrounds other than red or black. The black version is preferred when surprinting on a light color background.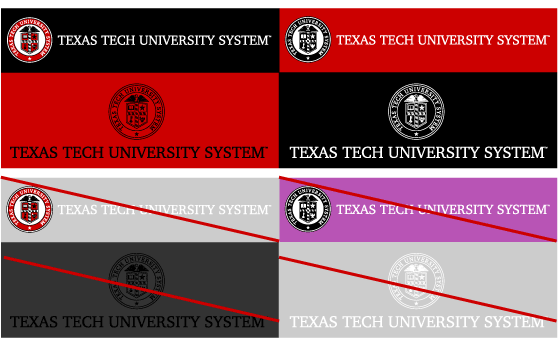 Clear Space
Maintaining a "clear space" around the Official Seal or Signature will help to avoid any confusion that may result when competitive logos, marks or organization names are included in marketing and communication materials. For the Official Signature, an easy rule of thumb is to measure the width of the shield in the Coat of Arms to determine the amount of clear space needed. Then, add that amount of space to all four sides of the Official Signature. No graphic items or text of any kind should intrude into this clear space.

Official Seal Minimum Size
For the Official Seal and Official Signature to be recognized, they must be readable. Therefore it is important to maintain a standard for the minimum size of reproduction. The minimum size of the Official Seal should be no smaller than .6 inches or 15.24 mm in diameter in print and 43 pixels at 72 dpi for on-screen viewing. In order to achieve an appropriate level of legibility and visibility, adjust these visual standards to adapt to the specific pixel resolution requirements of digital displays.
Larger minimum sizes may be required for embroidery, silkscreen, stamping or other reproduction methods where detail integrity is difficult to maintain.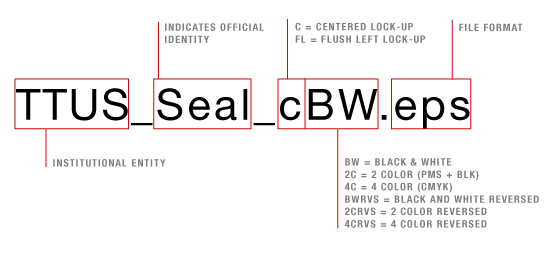 Signature and Tagline Lockup
You can think of the Signature and Tagline Lockup as the official "sign-off" for the Texas Tech University System and its component universities. The two should be used together whenever possible at the end of our marketing and communication materials. The tagline acts as a summary statement at the close of all of our conversations, supporting both our general and unique key messages to all audiences. It also acts as an important strategic beacon as we develop ongoing communication and marketing solutions.
Correct and Incorrect Use
The same standards for correct and incorrect use, including color applications, minimum size and clear space also apply to our Signature and Tagline Lockup. The simplest way to ensure the lockup is used in its correct form is to always reproduce the lockup from original artwork available for download on this page.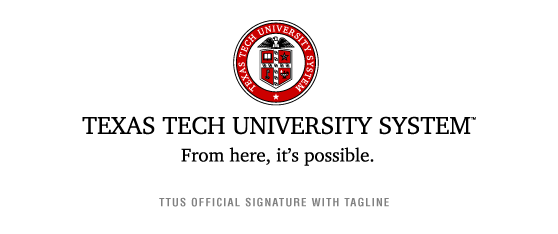 *PANTONE® is a registered trademark of Pantone, Inc.